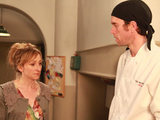 Emmerdale
's Laurel and Marlon will finally give into their feelings in the coming weeks, reports have revealed.
Over the past few months, we've seen the pair grow much closer - but things became awkward last Friday when
they both finally seemed to realise what was happening
- and Laurel has since decided to keep her distance.
That's not the end of the storyline, though, as
All About Soap
now reports that Laurel will share an illicit kiss with Marlon (Mark Charnock) in a forthcoming episode.
There's no word yet on whether the kiss could lead to something more, but
Charlotte Bellamy
- who plays Laurel - recently suggested that her character may not necessarily be tempted into an affair.
Will things develop further between Laurel and Marlon or will the kiss be strictly a one-off?
Emmerdale
is expected to air the scenes in question next month.
> Emmerdale Laurel is on shaky ground in Marlon plot, says Charlotte Bellamy
> Emmerdale Laurel 'may not have affair with Marlon'
> Read more Emmerdale spoilers and news