22
Soaps News
'Emmerdale' Laurel, Marlon, Ashley plot: Your verdict revealed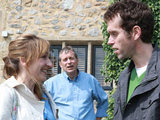 Emmerdale
fans have expressed their desire for Laurel Thomas to stay with husband Ashley in a
Digital Spy
poll.
Last week,
we asked you who Laurel should be with
amid her love dilemma over Ashley and Marlon, which has been at the forefront of the soap in recent weeks.
52.7%
of voters said that Laurel should stay loyal to Ashley (John Middleton), while
41.0%
were hoping for her to choose Marlon (Mark Charnock) instead.
Meanwhile, the remaining
6.3%
weren't impressed with either option for Laurel - voting that she should be with neither!
Charlotte Bellamy
, who plays Laurel, recently said that the current storyline will go on for quite some time and
feature "twists and turns"
- so for now we can only wait and see what the final outcome might be…
> Emmerdale Laurel, Marlon plot not a surprise, says Charlotte Bellamy
> Emmerdale Laurel, Marlon meant to be together, says Mark Charnock
> Read all the latest Emmerdale news and spoilers
Get the Inside Soap magazine on your iPhone or iPad