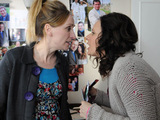 In the café, Viv reveals to Laurel that she saw Sally near some flats in Hotten. Determined to exact revenge, Laurel jumps into her car and races to the flat, pushing her way inside. Sally calmly preys on Laurel's insecurities about Ashley but Laurel snaps when she follows the deranged woman into her bedroom to find it covered in pictures of Ashley.
Laurel launches herself at Sally and the pair grapple on the floor. Sally continues to taunt her love rival and as the red mist descends, Laurel pushes Sally onto the flat balcony. Sally screams for her life but Laurel's unforgiving as she menacingly holds Sally close to the edge.
The police arrive with Ashley and Doug in tow and the pair are panicked as the two women fight on the balcony above. Will Laurel push Sally? Or will the police stop them in time?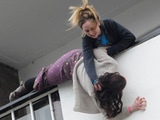 Meanwhile, Edna's shocked when she returns from church to find her granddaughter Eve on her doorstep.
Eve reveals that she's giving her husband some space and is grateful when Edna reluctantly agrees to let her stay for a while.
Elsewhere, Charity's at a loss when she returns to discover that Cain hasn't done any of the housework. Cain makes it up to her with a lunch date but she's annoyed when he eyes up some scantily dressed girls.
Also, Doug confides in Diane about Ashley's ordeal; Chas and Carl are determined not to let Shadrach ruin their day off, so decidedly ply him with alcohol until he passes out; and Diane offers to put in a word to Natasha for Andy about him renting Dale View.