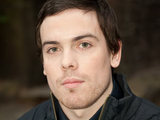 Northern Irish actor and former
Cast Offs
star
Peter Mitchell
makes his debut in
Hollyoaks
next week, appearing as Hollyoaks High's new headteacher Pete Hamill. Confident and charming, Pete shares a mysterious history with bad boy Brendan Brady, who's left alarmed by his sudden appearance in the village. Pete is a wheelchair user and as tension builds between him and his old acquaintance, Warren begins to suspect that Brendan could be responsible for the newcomer's disability. Could this be what Brendan has to hide? And does Pete have a score to settle?
DS
recently caught up with Peter to hear more about his new role.
When did you first hear about the role of Pete?
"I first heard about the role in July or August time last year, when my agent phoned me and told me that
Hollyoaks
wanted to meet me. So I came over to Liverpool and I met with Paul Marquess, who was the producer at the time. There was no audition process as such, it was a meeting with Paul and the first word of conversation was, 'Peter, we think your character should be…' and then he explained it. So it soon became apparent that there was a job there for me and they wanted to create a character especially for me, which was beyond my wildest dreams."
Was that because Paul and the team were aware of your previous work in Cast Offs?
"Yeah, exactly - it was through
Cast Offs
, which was also a Channel 4 show. They'd seen me on that, so it was extremely flattering that they wanted to create this character for me. I still can't believe it."
How was the character of Pete first described to you?
"When we first spoke about him, they said that he was very similar to myself. Like me, Pete is in a wheelchair but he's comfortable, he's over his accident and he gets on with it. It's not going to be a sad story - often when you see disabled people on TV, the audience is expected to feel sorry for them because of that disability. But with Pete, he gets on with it and he's an independent man. That was very reassuring and I was very, very excited about the role."
What more have you learned about Pete since you started filming?
"I've been filming now for nearly two months - six or seven weeks - and he's a great character to play. To be honest, there's still a lot more that can come from him. He's the headmaster of Hollyoaks High and he's very authoritative inside the school. He takes no nonsense from the kids and he demands respect. Outside of school, he can be very charming - he's charming with everyone because he's a nice guy. But with a certain individual, things are very different…"
That brings us to his history with Brendan Brady…
"Yes, obviously there is history between Pete and Brendan. The interesting thing is that Brendan is always in control - of his past, of his friends and of his enemies. But Pete has a bit of a hold over him. It doesn't take long to find out why, either - the story comes out very quickly!"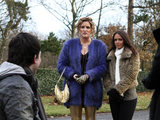 We first see Pete in Ireland, don't we?
"Yeah - Mercedes, Cheryl and Lynsey are in Ireland visiting Mal's grave and they bump into Pete. In that first scene, straight away the audience will discover that there's history between Pete and Brendan. Once Pete leaves, Cheryl talks to Lynsey and it's obvious that Brendan's not going to be happy to see his old friend when he turns up in Hollyoaks!"
Is Pete surprised to learn that Brendan is in Hollyoaks?
"Oh, no - Pete knows. He's very aware of that fact - he knows that Cheryl, Lynsey and Brendan are all in Hollyoaks. Pete is coming over to the village for the headmaster job, but with Brendan being there, he's got that wee bit of extra incentive because he knows his old friend Brendan is there…"
There's been some speculation about whether Brendan is responsible for Pete being in a wheelchair - could that be the case?
"Well, everyone knows that Brendan Brady is a shady character with some dark, dark secrets. Obviously with Pete being in a wheelchair, people are going to assume that Brendan is responsible for that. All I can say is that there is a backstory there and it doesn't take long for the truth to come out."
What has Emmett Scanlan, who plays Brendan, been like to work with?
"Amazing - absolutely amazing. When I watch him go into Brendan mode, I have so much respect for him and he inspires me - he really, really does. We've had a lot of scenes together and off-camera we have a bit of craic. We're all in the same boat here and we all get on great. But then, as soon as 'action' is called, Emmett goes straight into Brendan mode!"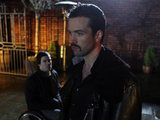 Had you watched Hollyoaks much before joining the show?
"I obviously knew of
Hollyoaks
because it is a huge show and it does have a huge fanbase. So I was aware of the show, I'd watched bits of it and I did know some of the characters. But since I got the job, I have watched it religiously - I wanted to get to know the characters more and especially the Irish characters because Pete has history with them. So since I've got the job, I probably haven't missed an episode."
Brendan's ongoing story has a really strong following - were you glad to get the chance to play a part in it?
"Yeah, to get the chance to be involved in a storyline with Brendan and to film scenes with Emmett was great, because Brendan Brady is a huge character on the show. So it's brilliant to come into the show as someone who has history with him and to have the chance to do a lot of scenes with him. And when Pete comes into Hollyoaks, it is a huge storyline so I'm pinching myself - I'm absolutely buzzing."
What else can you tell us about Pete?
"He's got the scenes with Brendan, Lynsey and Cheryl but he also mingles with a lot of other people because he's the school headmaster, so there is a lot keeping him in Hollyoaks. There's a lot that we can do with him once he's in the village…"
> Click here to read more from Peter Mitchell in Soap Scoop