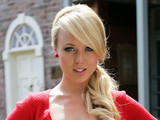 Theresa McQueen and Joel Dexter head back to
Hollyoaks
this week following their time away in Dublin together.
The pair fled in the finale of
Hollyoaks Later
last month, but must now face the music for their disappearing act as they turn up at the McQueen house.
When Theresa gets a rather frosty reception from Myra (Nicole Barber-Lane) and finds herself kicked out of the family home, she and Joel (Andrew Still) resort to even more extreme behaviour to get by.
Digital Spy
recently caught up with
Jorgie Porter
, who plays Theresa, to hear more about her character's return episodes.
Are you enjoying Theresa's storylines with Joel this year?
"Yeah, I've absolutely had a ball this year.
Hollyoaks Later
was absolutely fantastic, and it's all been quite exciting because Theresa has been a bit of a badass. It's a different role to what Theresa is usually like, so I think Joel has influenced her to be a bit naughty."
Were you surprised when you found out that Theresa's bad girl side would re-emerge?
"Yeah, I was surprised. It started off with some changes in her clothes and make-up, and then it went from there. I was a bit shocked at first because I thought, 'This isn't Theresa - how am I going to play her? It's completely different to what she's normally like'.
"But I think it makes sense because sometimes when you're with a boy, you try to fit in with him to make him like you more."
What brings about Theresa and Joel's return to the village this week?
"They've run out of money in Dublin, but it's mainly because Theresa wants her baby back. She wants to be there in Kathleen-Angel's life and look after her. Theresa is a good mum, but she just makes these weird choices. We don't find out too much about what happened when Theresa and Joel were away, but it's clear they've been up to no good."
What kind of a reaction do they get when they turn up at the McQueen house?
"It's definitely not a friendly welcome - there aren't any enthusiastic hugs or smiles! The reaction mainly is, 'Where the hell have you been?' It should be like that, really, because Theresa pretty much ran off without telling anyone what she was doing.
"Myra kicks her out shortly after she arrives back, because she thinks Theresa has been extremely irresponsible. Also, Joel has stolen a bracelet for Theresa and Myra isn't happy when she finds out about that. Myra says, 'We don't do that in this family!' But Theresa's reaction is - 'That's a bit hypocritical, of course we do that - it's what our family is all about!'"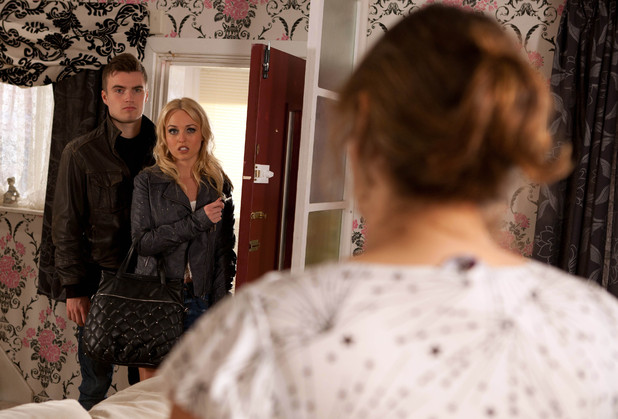 Is Theresa angry about being kicked out?
"Well, what really annoys her is that Myra won't let her take Kathleen-Angel when she goes. It's a bit of a weird one, because Theresa does seem to want the baby when it suits her. Other times she's happy for Myra to have her, because she's a mothering type and will always look after her. It just depends how Theresa feels at the time!"
We know that Theresa manages to get Kathleen-Angel back and uses her in some scams…
"Yes, Kathleen-Angel is a key part of Theresa and Joel's plans when they go out stealing. They know they can use Kathleen-Angel and the pram as a little decoy. It probably isn't the best thing to do, but Theresa still thinks she's a great mum!"
Joel also decides to target Tony, doesn't he?
"Yeah, but Theresa isn't so sure about that. Tony's always been the person to look after Theresa - he was the first person she met when she arrived in Hollyoaks, and he always took her under his wing a little bit. So the fact that Joel wants to rob Tony's house is a little bit of a step too far! Tony is Theresa's friend at the end of the day, and you don't rob from your mates.
"Theresa also has another thing to worry about, because Jacqui is on her case in these episodes. So Jacqui becomes a bit of an annoyance for Theresa, really."
Is Theresa shocked by everything that happened with Mercedes and Riley when she was away?
"There's definitely been a lot going on, but I think Theresa is a little bit selfish. She has her own little world where certain things are important and others aren't. Kathleen-Angel is really important, and Joel is too at the moment. Theresa is kind of aware of what everyone else is going through, but she doesn't care as much as she should.
"As a viewer, the big McQueen episodes have been great to watch, though! I love the fact that I know what's going to happen next, but I still can't wait to see the next episode."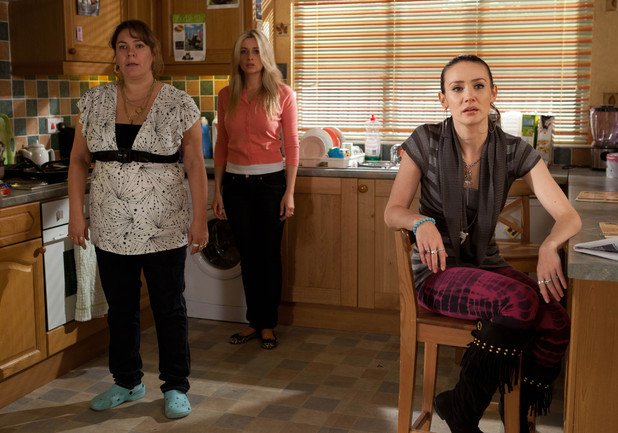 Would you like Theresa to stay bad for a while?
"I love the fact that she's a bit of a badass at the moment, but I think I'd also like to see Theresa back to her old ways and dressing like she used to dress. I think it's great she's got a boyfriend, but we all know that she's not a one-man person, really."
Do you think Theresa and Joel don't have a long-term future together?
"Hopefully if she can last with a boyfriend that would be nice, but we all know what she's like, so who can say? But I absolutely adore working with Andrew Still and I love how he brings out Theresa's bad side with their fighting and their frustrations. This is his first job and he's done so well - he's really portrayed his character fantastically."
What was the reaction like to your racy Hollyoaks Later scene?
"There was a lot of reaction on Twitter, because a lot of people heard beforehand about me being naked. In the build-up there were lots of tweets saying, 'When are you getting naked?!' I missed the scene when it went out, but it was quite a cool reaction. Nobody said anything nasty, which was a relief!"
Do you ever miss the Theresa and Will pairing?
"I do miss Will and Theresa's romance a little bit, because they were a bit quirky and had comedy scenes together. Because Will was so different to what Theresa is like, it was quite fun. Different boys bring out different sides of Theresa - I've actually just worked that out!"
What else is coming up for Theresa?
"Hopefully things are going to get bigger and better. At the end of the day, it is
Hollyoaks
and I can't see things getting quiet."
How does it feel to have well-known faces like Nikki Sanderson and Jeremy Sheffield joining the cast?
"It's really great, I find myself getting a bit starstruck. With Nikki, I'd already met her before and I think she's absolutely lovely.
"It's amazing that people from big programmes will come onto our show. I think a lot of people don't give
Hollyoaks
credit for what we do. We make some absolutely fantastic TV, and for other people to come and join us is just amazing."
> Read the latest 'Hollyoaks' spoilers and newsHollyoaks airs weeknights at 6.30pm on Channel 4, with first look screenings at 7pm on E4.