Soaps Interview
Exclusive:

Bryan Kirkwood, 'Hollyoaks' Producer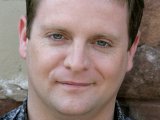 Since joining
Hollyoaks
on January 16, 2006, Bryan Kirkwood has rejuvenated what was once an ailing soap, bringing the show back to form via storylines and characters which have captured the minds and hearts of many-a-fan.
His reign began with the explosion at the local watering hole,The Dog, which ultimately led to a cast clear-out including twins Mel and Sophie Burton and Joe Spencer.
However, the 31-year-old's plethora of new cast and re-establishment of existing characters, alongside a wedge of dramatic, heart-wrenching and comedic storylines has propelled the show to where it is today.
Bryan's brainchild, the McQueen family, has led to what some may regard as one of the most iconic storylines in
Hollyoaks
' history - Craig's love for John Paul – while his decision to recast villain Clare Cunningham resulted in the 'Who Pushed Clare?' plot which dominated the summer months and climaxed in a stunt that produced some of the most spectacular scenes the soap has ever filmed.
Meanwhile, Hannah Ashworth's anorexia ordeal successfully brought to the fore the real dangers and serious consequences of eating disorders, with the programme being the first to air an anorexic death.
Here, Bryan speaks exclusively to
Digital Spy
about what's in store for the soap's key characters over the next few months including the festive period, the 'McDean' storyline, the transformation of the show since his arrival and the perception of the show's sexy image.
And thanks to Bryan, one lucky Craig Dean fan could walk away with a genuine and iconic wardrobe item…
There's been a lot of controversy surrounding James Sutton's comments about EastEnders...
"What James was alluding to was a comment made by Jake Wood that was never said. The was a comment by another EastEnders cast member that may or may not have been misquoted in the first place about Hollyoaks stars always out partying which James took great offence at. I understand where James was coming from – he's a very passionate man and he takes his job very seriously. I think his wording was quite unhelpful and I've had a word with him about it.
"He accepts totally that he should have thought before he spoke. I've chatted to Diederick [Santer] and I think that we're all working as hard as we can to produce four or five episodes a week and we get enough flack from elsewhere without having to resort to picking on each other.
"And that goes across the board really, onto internet forums such as Digital Spy. When you get viewers knocking seven bells out of each other simply because of their chosen soap, it can get relentlessly depressing – there's far more interesting and up-beat things to be debating and discussing than 'my soap's better than your soap'."
How do you feel about your NTA nominations?
"Delighted. Last year was the first year that Hollyoaks had been nominated for an award other than 'Best Soap' and this year we've done it again. We've got nominations in 'Best Actor' and 'Best Newcomer' for James Sutton and Gemma Merna respectively.
"It's great recognition in a national vote that we can get into the final four in the nominations and it reflects the massive step forward that the show has taken over the past couple of years."
Were you pleased with how the Hannah storyline came across on screen?
"Yeah. A lot of the stories that have been playing out this year were conceived in my first long-term conference in January 2006, so we knew we were heading toward this story with Hannah but we had to put a year's worth of groundwork in first to get to the point where she'd turn initially to bulimia as a way out.
"It was a long time coming and it bubbled under the surface. When the press leapt on it and it was revealed that Melissa would die, it really took me by surprise that it was such a newsworthy story. But ultimately, it was gratifying that we could tell a story that could capture the interest as much.
"Emma Rigby has proved herself to be one of the all-time Hollyoaks greats. She's a very bright girl, a terrific actress and she took the storyline so seriously. She undertook her own research as well as the official research that the show took on and she attended counselling sessions with sufferers of eating disorders. You've no idea how much effort she put into that story and I think the results were clear on screen."
Where do we see Hannah go from here?
"It's a tricky one when you deal with issues on soaps because you've got to be true to the illness and you've got to act responsibly when portraying someone's recovery. But at the same time, you run the risk of viewers switching off when they're bored of the story – that's the balance you have to strike.
"We'll see Hannah being released from hospital having made some strides into a recovery. Soon after, we'll get her together with Danny Valentine who's a very up-beat, optimistic, fun new character who I'm very pleased with. So his kind of personality will help Hannah move forward and shake off the 'down aspect' of the illness story, while still maintaining the true nature of her recovery – which won't be the main story but will be an undercurrent to everything she does from now on."
The McDean storyline has been a huge hit for Hollyoaks and has really consumed fans - what's been the highlight of it all for you?
"Again, I have to say that, while I always knew it was going to be a good story, the audience reaction to 'McDean' took me by surprise as well. In my head, Justin/Becca and Max/Clare were the biggies which drew to a close last year and I worried that we weren't ever going to invoke the same audience reaction as we did for those two stories. And then John Paul and Craig came along and blew them out of the water, really.
"Stories like that you can't plan for. You can put the planning in, you can get the storylines, you can get the writing, you can get the actor and then certain intangible things come along like chemistry which pique the public interest and it starts to move in a whole different direction.
"As I've said before, I'm very proud of the story, very proud of the actors, delighted with how it's been received and the amazing support it continues to have."
Click 'next' to read more!
There's been a huge call for a spin-off of some form for Craig and John Paul - is this something you considered?
"Regarding spin-offs, when I came on board, I was very keen to return Hollyoaks to its core 6.30 show. I felt, speaking corporately, that the brand had become quite diluted with late nights, bubbles and video specials. It was the 6.30 show which needed the most work and that's what I wanted to concentrate on.

"We haven't discussed a spin-off. Any possibility of a spin-off right now is pretty unlikely simply because Guy was ready for fresh challenges. He left after five years on a show which is a long time for a young actor. He wanted to shake off Craig for a while. But that's not to say he won't return in the future for the sunset ending that I know so many people are keen on. But regarding anything happening in the very near future, it's unlikely for that very reason."

Now that the McDean storyline has come to a head, is there more of a permanent place for Spike?
"Possibly. Tom Vaughan is a very charismatic actor and brought to life a character who was, in all honesty, a bit of a device in the story. That's priceless really. We have got a very big cast at the moment and all the boring but necessary side issues that brings with it – contracts, budgets and such like – we're being very selective about new characters at the moment but there is every chance Spike could return.

"We discussed him being a part of John Paul's next story but decided that would have been a mistake. So if he does return, it'll be for Spike's own story."

Where do we see JP go from here?
"John Paul will have a quieter few months. I think it's essential for other characters to have the opportunity to come to the forefront of the show. We'll continue to see him in smaller stories. I was very keen to see his next couple of months not concentrating on his sexuality. So we'll see him settle into college life and establish some nice new friendships including a surprising and sweet one with Elliot.

"After we've blended him in and given him a chance to recover from the trauma he's been through, we'll throw him into another big story at the beginning of next year which I'm very excited about…"

Any teasers?
"Put it this way, he'll be embarking on an affair with a very surprising member of the community…"

You're already in the festive spirit at Hollyoaks shooting the Christmas episodes…
"We're storylined and at script stage now with the Christmas episodes. In storyline terms, we're actually in late March already. But we've got the Christmas decorations up on the set which is a bit weird at the beginning of October."

What can we expect from Hollyoaks at Christmas this year?
"I thought last year's Christmas with Max and Clare in the lake were some of the best episodes we've done. It was a bit of a gift really having that setting and that story climaxing. We don't have that this year but what we do have is a massive story kicking off on Christmas day with a McQueen family secret coming out of the woodwork.

"We have a peak in the Rhys story which is bubbling under but that explodes on Christmas Eve. And the Osbornes feature heavily, too – Darren's gambling has hideous consequences on the family. So it's a packed Christmas, particularly with the McQueen story. It's different from last year but hopefully as strong."

Isn't there a new character joining over Christmas, too?
"He's a tall stranger who walks into the village – a guy called Niall. He sets himself up as a hair stylist in the salon and he's very ambiguous and mysterious. Viewers will be wondering 'Is he gay? Is he straight?' We play a couple of red-herring stories: Will he get off with Louise and come between Louise and Warren? Will get off with Carmel? Or will he get off with John Paul?

"The McQueen family take him into their bosom – Myra's to be precise – and we discover on Christmas Day that Myra's first born was a boy that Nana McQueen made Myra leave in a church on Christmas Day when she was 14. And we see Niall on Christmas Day this year steal a McQueen family photograph and burn it. So this is going to be the big storyline of 2008 – Myra's secret and abandoned son is back to wreak revenge."

Who chooses the music which plays out on the show?
"We have a dedicated music department. A very talented pair - Kate Finn and James Warburton - are in charge of choosing a lot of music and clearing all of it for use. They go to as many gigs as they can to discover new, upcoming bands. They've got an encyclopeadic knowledge and are fantastic at choosing appropriate tracks for our menu sequences and for more dramatic cliff-hanger episodes.

"Anyone else is welcome to suggest songs, though. Guy Burnet was always keen on the Razorlight song 'I Can't Stop This Feeling I've Got' which actually fitted that story perfectly. Directors, writers, actors, script editors – if someone's got an appropriate idea and we can clear it, we'll use it. I think the music on Hollyoaks really sets it apart from the other soaps."

Any plans for a sad Hollyoaks ending theme like EastEnders' Julia's Theme?
"I'm aware that the bouncy, poppy theme tune isn't always appropriate to the more down-beat endings, which is why we occasionally move away from that and use a commercial track to signify an especially sad and moving moment. I don't want to do that all the time because I think it becomes less special the more you do it.

"But yeah, plans are certainly afoot to remix or 'reswizz' the closing credit music to make it more appropriate for the sadder endings."

Click 'next' to read more!
You've tackled an eating disorder and sexual confusion over the past few months - what's going to be your next major issue that you tackle?
"The funny thing is I hate 'issue stories'. I'm not a fan of reading something in the paper and shoving it into the show with no disguise whatsoever. What I do like is a good story. I think with Hannah/Melissa and John Paul/Craig, for me, they were about the story, the narrative, the emotion, about the relationships that just happened to have an issue attached."

Do you feel that the 'sexy image' of your cast distracts from their acting abilities?
"Yeah. I do struggle with it sometimes, I've got to be honest. I don't think that being good looking should detract from your abilities as an actor. I do struggle with the perception of the show, particularly these days. It's a lazy, shorthand attitude to the show to say 'they're good looking, therefore they can't act'. It think that can be a bit insulting, actually.

"We live in a looks-dominated society but I do believe we have a very strong cast that remains true to the spirit of the show but have proved that they can also act and can tell very strong stories."

Which character/storyline do you feel has been your hallmark on Hollyoaks since you've been there?
"That's really tricky for me to choose. It changes all the time. I'm so pleased with the way Jamie Lomas has worked out and he doesn't come in for a lot of praise really because I think it's quite an 'unshowy' performance. He's created a very, very bad man with a lot of heart to the point where you sometimes sympathise with him. Particularly with a show like Hollyoaks, with our turnaround, he's done very well in creating a three-dimensional bad boy who doesn't resort to moustache twirling.

"The entire McQueen family, for different reasons, have to be favourites, too. Gemma Merna, I remember back to the audition when she turned up looking like a dog's breakfast in what she believed the character would wear. It was instant. From there we created a character around her.

"Jen Metcalfe has brought Mercedes to life. Mercedes was the first new character we ever discussed creating after I'd arrived and then we got Jen and she made that character her own, a savvy, ballsy girl that can't say no and is unapologetic about it.

"James Sutton, Guy Burnet… I could name everyone in the cast but it depends who's got a big story at the time. I don't think my predecessors made the most of Guy, though. He was in the background with daft get-rich-quick stories for four years. You had Craig and Darren, both brothers, both with long hair, both in the background, both brilliant actors. So making something of Craig is a good feeling for me.

"To inherit a show that was renowned for its less-than-brilliant acting, it was a massive relief to discover that the older cast members there so strong. I can't single out the newer characters without mentioning the old favourites who are the staple of the show.

"Ashley Taylor Dawson [Darren], Matt Littler [Max], Darren Jeffries [O.B]. and Nick Pickard [Tony] are brilliant actors. I'm particularly pleased in moving Tony away from the buffoon he had become over the years into heartbreaking stories such Grace's death and his relationship with Jacqui. He's a touching and sensitive actor who's always over-looked."

What's the best thing about working on Hollyoaks?
"It's the story telling and getting the most out of stories. That's where I learned my trade – if you want to call it that – in the Coronation Street story office. I was storylining during the Richard Hillman era which was when Corrie reclaimed its 'place'. I learned so much about telling stories, about twists and turns, gear changes that just turn a story in a different direction.

"That's where I get my most satisfaction, really. Story conference, where we sit down with three blank pieces of paper and we come out with three weeks' worth of episodes. Then the wrangling with the story team, making the episodes faster, funnier and cleverer…

"No two days are the same, either. Bizarre things can be thrown at me. You go from meeting to meeting and ludicrous things happen.

"But also the downside is when something doesn't work as you'd hoped. We're our own worse critics, we really do give ourselves a hard time when things don't go well but that only serves to spur us on to do better next time."

There's been a lot of speculation about Gemma Atkinson possibly returning to Hollyoaks. Do you have any plans for her to return?
"Gemma's a real star and I have chatted with her and her agent about the possibility of a future return. None of us feels that it's right at the moment but there's a chance it could happen in the future. There's nothing signed and nothing planned for the foreseeable future."

The Barnes

Is Kathy Barnes returning?
"Kathy returns within the next week or so. She's made some way to recovering from her mental breakdown when she kidnapped Leah but Sarah-Jane Buckley will be leaving the show in the coming months.

"There's a lot happening in that family. I think they're called the Barmy Barnes on Digital Spy and considering they're the most middle-class, straight-forward family, it's really exciting to give them ever-increasing bonkers storylines. So Kathy will be leaving in a bit of a bonkers story at the beginning of next year.

"There's actually quite a lot more to come from the Barnes, too. Connecting with Kathy's departure, Mike will start a relationship with Zoe. Zoe and Darren come to a horrible end around Christmas time relating to his gambling addiction and his fling with Jess. Zoe moves in with Sarah, her new friend, and we see a really delightful relationship develop between Zoe and Mike Barnes. It makes me very excited because I know the actors are going to do it so well and we've got so much planned for them.

"Amy and Ste embark on a new life together in their council flat and, in their search for money and to keep their head above water, we've got some eye-popping twists - some very shocking moments."

Click 'next' to read more!
The Burtons

What would you say to those who claim that there's now no life left in the character of Justin?
"It's total rubbish. Chris Fountain does divide some viewers but the fact is that he's one of the most popular actors we've got. With Chris, because he has done so much, it's easy to dismiss him. Watching him recently, I've been reminded that he's bloody brilliant. He's a very good actor. Because he's been around so long and done so much, you almost don't notice him turning in a brilliant performance.

"I'd be crazy to let Chris go. It's essential that the character regenerates a little, though, after what's been a mad two years. There's still years of life left in the character. The guy is essentially a good guy who makes mistakes and to whom bad things happen. An 18-year-old with the potential to do anything is a brilliant character."

What's he going to be involved in next?
"I want to see him smile for a bit. But viewers might not recognise that it's Chris Fountain if he does! I want to see Justin make friends and hang around the students and just be a bit of a lad. He strikes up a bit of a friendship with Zak, while his relationship with Katy continues. So he'll be slightly in the background for the next few months but at the top of next year he becomes embroiled in the Jake and Nancy story and he's back with a bang!"

The Deans

Has the paternity of baby Charlie been forgotten?
"No, not at all. I'm aware that some viewers think that it's gone on too long but remembering back to classic soap stories such as the paternity of Michelle's baby and Sharongate in EastEnders – those were stories which kept viewers hanging on for two or three years. I believe that in a long-running show, you have to have treasure in heaven that is buried to come blasting back to the fore after a while.

"So that's a big story that will come to the fore in the New Year.

"The Jake story is a really strong story. Jake Dean is another character who is capable of anything. Here's a man who dragged his pregnant wife around by the hair when he realised she'd been having an affair with a school kid; a man who kills Mrs Valentine in a rage-filled hit-and-run. He's a dark character who hides it quite well.

"Jake's relationship with Nancy – we've spent a couple of months just getting them together and hopefully getting the audience to think that it's just a gentle romance. However, it's weaving the web for a very dark story which reaches its peak in the first few months of the New Year which will incorporate the paternity of Charlie and a very dramatic character change in Nancy.

"Jess Fox is another unsung hero on the show who continually puts in very strong performances. This is her first big story in the spotlight and I'm confident she'll rise to the challenge."

The Valentines

How are the new family members settling in?
"I was determined that losing Sonny wouldn't damage the Valentines too much, so we brought in two very different but rounded characters. We have Danny's light to Lauren's shade; an eternal optimist and a doom and gloom merchant. They're very good actors, you instantly know who they are. We just want to settle them in over the next few months but as we move to the end of the year and into next, all the Valentine children – Calvin, Sasha, Danny and Lauren – will be involved in very different but equally gripping stories."

The McQueens

We've spoken about your new McQueen – what else is there in store for them?
"I'm very keen for each family to have more than one story going along at the same time. I think the mistake some soaps make - and we've made in the past – is when they hook onto one principle. You end up having the same scene over and over again and that's the lesson I've learned.

"So there'll be at least two massive McQueen storylines going on next year so that it's all a bit messy and all gelled into one, complementing each other.

"Talking about Jacqui's surrogacy, we've laid the foundations – she can't have kids and in the light of Grace's death, Tony is desperate to have kids. It's a very complicated and messy story that sees Tony having a fling with Mercedes, Tina offering to be the surrogate, a pregnancy and abortion along the way. Myra's displeased with everyone's behaviour and it's basically classic McQueen. It's funny and sad at the same time."

The Foxes

Will Warren ever get his comeuppance?
"Not while I'm around! I love Jamie, I love Warren. The relationship with Louise is working very well and with Katy's arrival, we've seen a different side to Warren. He gets embroiled with Darren and Jack towards the end of the year which brings more turmoil to the Osbornes over the festive period.

"We've got Sean's body – the fact that Warren killed Louise's husband – lying as a secret between them which is great to always have in store…"

What about the rumours that Katy has a secret love child?
"That's interesting. But no…"

Click 'next' to read more!
The Osbornes

Is there any truth in the rumour that Frankie's going to have an alcohol-related storyline?
"Absolutely not. I love Jack and Frankie – they're essentially the heart of the show. They didn't feature too much this year because Helen Pearson had a few months off. Towards the end of the year, we'll see them return to the centre of the programme with Frankie's decision to become a foster mother. This leads to the arrival of a new and very important character arriving in the shape of Barry 'Newt' Newton, a 15-year-old emo kid who will be someone who a growing number of our audience can identify with. He's a little belter who after a couple of years in the background will hopefully prove to be a really big character in time to come."

The Ashworths

"I've touched on Rhys and Beth and that's set to explode in a couple of weeks when it's revealed that he's slept with his sister…

"I hope that we've done it justice in the hope that it's been quite touching and horrifying. A love story's only as good as the obstacles in its way and this is a pretty big obstacle. And Rhys takes things to a whole new level over Christmas…

"I think Andy Moss is very talented and has been in the background for too long."

Max / O.B. / Steph

"I'm absolutely gutted by Darren Jeffries' decision to leave but I totally respect that after 12 years of being a character, he wants to move on to different things. The challenge is on to give him as big and iconic an exit storyline that the character deserves.

"I'm really pleased with how Max and Steph are working out and I think she'll be a suitable replacement in the sidekick stakes. It was a gamble putting two of our most important and long-running characters [Max and Steph] together. It's shaping up really well and Steph will set play an important role in filling the gap left by O.B.'s departure."

Is there anybody else in the pipline to be leaving?
"Yeah. Jenny Biddall is leaving at the end of the year. She steps rather too readily into Zoe's shoes when Darren starts on his winning streak and they form a Bonnie and Clyde partnership which is very funny but she leaves in a dramatic twist in the New Year episode."

Do you still have Guy Burnet's Snowflake cardigan?
"[Laughs] I was watching the video on your site last week. My jaw dropped when I saw what he said about me snuggling up to it. No I bloody don't! [Laughs] I love the fact the cardigan has a name!"

There have been lots of rumours suggesting that you're being poached by Corrie again – what's the official line?

"I adore working on Hollyoaks and have no plans to leave. You do fall in love with programmes when you work on them as hard as we work. To my eternal shame, I dream about Hollyoaks! [Laughs] I think it's a fantastic programme and love working on it."

And finally, have you ever toyed with the idea of producing a 24-style week of real-time episodes?

"We've talked about this recently. If any show can play with the construction of the episodes, then it's Hollyoaks. We've quite keen to start doing the occasional one-off episodes that stop the story and we delve into a character's background. We have toyed with the 24 notion as well. Anything's possible really.

"We've got an episode coming up soon in terms of us stopping the story. It's quite a slow but moving episode when we get to grips with the past of Frankie's foster child, Newt. We also hear about Warren's, Ste's and Darren's background as well. There's a parallel between all four characters in terms of childhood, neglect and abuse. It's a very touching episode that I hope people will enjoy and I'm certainly keen to do more of those.

"Because of the rattling pace that we tell stories, it's sometimes easy to forget where the characters have come from and why they're behaving the way they are."

Thanks for chatting to us, Bryan!

And thanks to Bryan, we're giving one lucky reader the chance to win Craig Dean's Snowflake cardigan! For your chance to win this genuine piece of Hollyoaks memorabilia, simply click here. Get the Inside Soap magazine on your iPhone or iPad