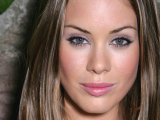 Hollyoaks
star
Roxanne McKee
has admitted that she feels "exhausted" after filming her final scenes for the soap.
The actress's character Louise Summers will
bow out
after three years as part of a dramatic Christmas storyline next month.
McKee has found the experience so overwhelming that she is delaying her leaving party while she recuperates.
"I'm absolutely exhausted. The stuff we've been filming has been very emotional," McKee told the
Daily Star Sunday
. "I can't say too much as I don't want to spoil it for everyone.
"I know it sounds lame but I needed some time off to get over it all. So I'm having a couple of weeks chilling out before I hold two parties - one in London and the other in Liverpool. I've been in Liverpool for three-and-a-half years so I want to get everyone I know together for a proper send-off. And a lot of my friends and former cast members are now based in London so I'll have another party once I move back."
Asked about her future plans, she added: "I've always said I'd love to do a period drama and I'd also like to do theatre. But right now I'm really looking forward to both of my leaving parties."