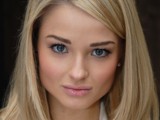 Hollyoaks
star
Emma Rigby
has vowed to concentrate on "serious" roles after she bows out of the soap in December.
The 19-year-old actress recently
confirmed
that she plans to leave her part as Hannah Ashworth on the
Channel 4
show in order to pursue new projects.
Rigby originally
announced
her decision to quit in November last year, but she later
extended
her contract by six months following talks with series producer Lucy Allan.
Discussing her future plans in an interview with
The Sun
, the star revealed: "I am seriously nervous about leaving a stable job like
Hollyoaks
, especially in the current climate of the time.
"But I don't feel that a soap like
Hollyoaks
will hinder my career in any way. It's been a fantastic experience and I wouldn't change it for the world. I think soaps get a lot of bad press. They aren't taken seriously enough even though we act day in, day out. I do wish people would see how valuable this is.
"I want to get into some more serious stuff when I get out - theatre, films and drama."
Rigby also ruled out the possibility of following in the footsteps of Gemma Atkinson, who has focused on glamour modelling since leaving
Hollyoaks
in 2006.
She commented: "I'd absolutely never do what Gemma Atkinson has done. The glamour scene is not me at all. I don't think I could be labelled as a glamour babe. Everyone has their own opinions of what will give them success, so it's completely up to her, but you won't catch me doing anything like that."
Rigby made her
Hollyoaks
debut in 2005. In 2007, she tackled one of the programme's most hard-hitting storylines, which saw her character Hannah suffer from the eating disorders bulimia and anorexia.