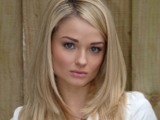 Emma Rigby
has revealed that her scenes in
Hollyoaks Later
have "terrifying" undertones.
The late night soap spinoff sees Rigby's character Hannah Ashworth shedding her straight-laced image by attending a music festival with her brothers Rhys (Andrew Moss) and Josh (Sonny Flood). While there, she finds herself falling for a drug dealer called Jamie (Finn Jones) and befriending a prostitute named Imogen (Holly Gilbert).
Speaking to
DS
, the actress explained: "My character wasn't in the late night episodes last year and with Bryan [Kirkwood] producing the episodes this year, I jumped at the chance. I'm a big fan of his!
"It's good to be in it and when I found out what the storyline was I thought it was really interesting and something different to play."
She continued: "The feel of my story is quite dark. It's got this sense of something that comes across as wild and fun and a chance for Hannah to be a part of it, but then she suddenly realises that all's not what it seems. Underneath it's quite terrifying."
Rigby also admitted that she was "actually scared" when filming violent scenes for the storyline's conclusion.
She then added: "There are guns involved and everything. Hannah ends up with a gun to her head. It actually really hurt! There was a specialist on set that tells you how to handle a gun. A lot happens in the last ep - it's a real whirlwind."
Hollyoaks Later
begins tonight at 9pm on E4.
> Click here to read our full interview with Emma Rigby