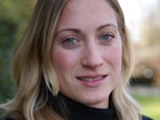 Hollyoaks
' series producer
Lucy Allan
has revealed that she considered moving the soap's storylines ahead for a permanent 'flashforward' earlier this year.
The Channel 4 drama recently
announced
details of a unique one-off episode set six months in the future, focusing on a dramatic
incident
which will take place on the day of Calvin Valentine (Ricky Whittle) and Carmel McQueen's (Gemma Merna) second wedding. Viewers will then see the build-up to the pair's nuptials as the show's instalments return to the present day.
However, Allan has now told
DS
that she "toyed" with the idea of jumping forward in time for good while planning Zoe Carpenter's (Zoë Lister) recent trial plotline, which saw the troubled blonde accused of being responsible for Sarah Barnes's (Loui Batley) tragic skydive death. The proposal was later ruled out after being deemed too problematic.
Allan commented: "[It would have been] four months and coming straight out of
Later
into day one of her court case. The problem you have, though, is you have to do it by a year, otherwise you'd have Christmas in the middle of the summer and the whole thing becomes a mess."
The programme's boss confirmed that she would "never say never" over a permanent time jump for the future, adding: "It's a jump too far for now, but who knows?"
Hollyoaks
' forthcoming 'flashforward' episode is a UK soap first as no other British serial drama has ever broken the time continuum before.
> Click here to read our interview with Lucy Allan
> Click here to read more from Lucy Allan in Soap Scoop