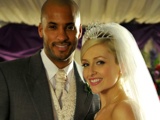 Hollyoaks
' series producer
Lucy Allan
has promised that viewers can expect plenty of intrigue as the soap's 'Who Shot Calvin?' murder mystery develops.
It was recently announced that show favourite Calvin Valentine is to be
shot dead
by a mystery assailant at the end of the programme's forthcoming 'flashforward'
episode
, which is set in May 2010 on the day of his second wedding to Carmel McQueen (Gemma Merna).
The special instalment will see a number of characters appearing angry at Calvin, played by 28-year-old Ricky Whittle, for a variety of different reasons. Meanwhile, to add to the confusion surrounding his death, viewers will notice tensions building in the run-up to the tragedy after the show's storylines return to the present day.
Speaking to
DS
about the high-profile whodunit plot, Allan explained: "There are 23 people in the episode and Calvin's unlikely to have committed suicide... so it could be anyone in the ep. Or it might even be someone who's not there... The most exciting thing about this story for us - in the build-up and the fallout - is that so many people have motives and means. When we sat and talked about the police investigation, it was hilarious! So many people are suspects!"
Asked when all will be revealed to fans, she replied: "There'll be a massive week-long story and the culmination of the week will be the reveal. That certainly isn't the end of the story, though. The reveal spirals into something else. We had to make sure that this wasn't a story that ended at the reveal."
Meanwhile, Allan also promised that the six months of twists and turns will prove to be worth viewers' attention when the truth finally comes out next year.
She said: "The payoff will be absolutely worth it - the way that it plays out is not the way you expect at all. And the fact that it doesn't end at the reveal and it spirals into another story is very exciting. Viewers won't be disappointed."
> Click here to read our interview with Lucy Allan
> Click here to read more from Lucy Allan in Soap Scoop