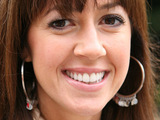 Hollyoaks
newcomer
Sheree Murphy
has claimed that the soap should try to lose its 'teen drama' label.
The actress, who
signed up
to play Anita Roy's (Saira Choudhry) long-lost mother Eva in February, suggested that the show could strengthen its existing appeal to older viewers and pick up new fans by making changes over the coming months.
Speaking to
Holy Soap
, Murphy explained: "It may be on at 6.30pm, but I know so many grown-ups, like my auntie and cousin, who absolutely love it and watch it on a Sunday. It's a whole different market on a Sunday. There are a lot of older people watching it and catching up on it then.
"I think you have to appeal not just to teenagers but adults as well, so maybe if they do bring in older characters and feature them more it will be up there with the other soaps, rather than a teen drama."
She continued: "
Emmerdale
and Corrie have lots of youngsters but lots of adults too. And lots of young kids love watching those soaps, so maybe it'll be better if we get a few older characters in and make it more like that?"
Ex-
Footballers' Wives
actress Phina Oruche, former
Bill
star Kim Tiddy and
The Chase
's Paul Opacic were recently
unveiled
as older faces who are joining the programme.
Meanwhile, Murphy's first
Hollyoaks
scenes will air next week.