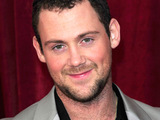 Kent Riley
has confirmed that he has filmed his leaving scene for
Hollyoaks
.
The 26-year-old actor, who has played Zac Ramsay on the Channel 4 teen soap for four years, told fans on Twitter that he has shot his exit.
He wrote: "I am not yet finished filming that is next Thursday! Ha but I am riding on the crest of a victorious coloured wave!
"A busride with 2 others after 3 and a half years in exactly what I wanted! Tweeters my f****** living room is still unfinished!! I am livid! On the brightside I have just filmed my leaving scene in the oaks (sic)."
> Riley: 'It'll be sad to leave Hollyoaks'