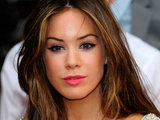 Roxanne McKee
has said that she does not miss
Hollyoaks
, as she maintains regular contact with her friends from the show.
Speaking to
Holy Soap
, McKee said that she does not have time to miss her fellow actors, although she does miss the crew that she worked with.
She said: "I still see a lot of them, so I don't have time to miss them which is quite good - I go for coffee and stuff with them.
"I see Hannah Tointon (Katy Fox) quite a lot. Actually I was just talking with Cassie [Powney] who played [twin Mel Burton]. And I see Jodi [Albert] as well, although she's busy with herself at the minute because she's launching a band. So I still see everyone."
McKee added: "I miss a lot of the crew who I don't see, because obviously you're working with a different crew. I still get to see the actors so that's good, so I don't have to miss them."
Speaking of her appearance in
E20
this year, McKee added: "It was fun. It was really nice. It was nice to see [former Hollyoaks producer] Bryan Kirkwood again. It was a really enjoyable experience, it was great."