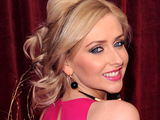 Gemma Merna
has said that she is "really happy" with scenes which see Calvin Valentine make a temporary
return
to
Hollyoaks
as a ghost.
Next week's episodes of the Channel 4 soap see Merna's alter ego Carmel come face-to-face with the spirit of her late husband at a time when she is in desperate need of his support.
Speaking to
Inside Soap
about the storyline, Merna explained: "Seeing Calvin's ghost helps her to move on. He tells her that he's sorry for everything and answers all her questions.
"Calvin also explains that baby Angel is going to pull through after being involved in the kidnap incident with Kyle."
She added: "We filmed the ghost scenes last year before Ricky Whittle left. Then we filled in the gaps, so it was quite difficult to match up - but it's a very strong and dramatic episode and I'm really happy with it."
Merna also said that she could relate to the storyline because she believes in ghosts in real life.
"I believe in spirits and that they are all around us," she confirmed. "In the past I've had readings and spirits have come to me. I find it all really interesting - the idea doesn't scare me at all."
> Whittle: 'I have exciting new projects'
> Click here to read our Hollyoaks spoilers