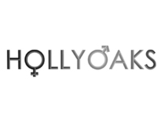 Hollyoaks
has announced plans to put one of its biggest ever storylines into the hands of the public by recruiting a 'jury' to decide the outcome of an on-screen rape trial.
In an ambitious first for UK soap, the programme's bosses will invite 12 ordinary members of the public to look at the evidence, deliberate the case and ultimately decide whether show regular Gilly Roach is guilty or not guilty as he stands trial for raping Jacqui McQueen.
As
revealed
earlier this month, Gilly (
Anthony Quinlan
) is to be arrested and charged in the weeks ahead after Jacqui (Claire Cooper) claims that he sexually assaulted her. Following the accusation, the personal trainer confirms that he had sex with Jacqui on the night in question but insists it was consensual.
The act of rape does not feature on screen and neither Jacqui nor Gilly is lying about what took place, but both are reading the same situation very differently - leaving villagers and viewers unsure of what really happened. Crucially, the storyline is not a case of a 'false accusation' but instead explores the complex and emotive subject of rape from two different perspectives.
Hollyoaks
bosses undertook thorough research while planning the storyline to ensure an accurate portrayal of the issue, consulting rape charities Rape Crisis and SARC (Sexual Assault Referral Centre) and the Don't Cross The Line campaign among others.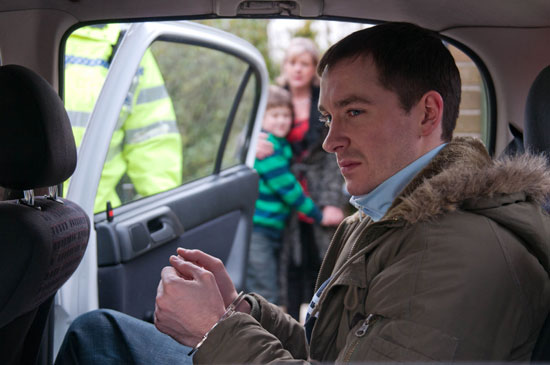 Pictured: Gilly is arrested on suspicion of rape.
By opening up Gilly's trial to be decided by a real-life jury, producers hope to provide an opportunity for the audience to engage directly with the complex issue at hand and give rise to debate. Production company Lime Pictures will also use multiplatform initiatives by ensuring that the process is fully documented on the
Hollyoaks
website.
A show spokesperson told
DS
: "Conker Media, Lime Pictures' Digital Media subsidiary, has been working alongside the
Hollyoaks
production team on this project and will deliver educative and informative videos with the various charities involved to educate and engage with the audience online and provide much-needed programme support for viewers affected by the issues raised. Footage of the jury deliberation will also feature online to engage the audience in the debate and encourage them to discuss the issues raised."
Those interested in sitting on the jury will be able to apply through the
Hollyoaks
website. Show chiefs will follow guidelines similar to the ones used for selection of UK jurors and are hoping to recruit a broad selection of individuals, meaning that not everyone chosen will be a regular viewer of the soap.
Once the applicants are whittled down, the chosen jurors will be invited to
Hollyoaks
' base in Childwall, Liverpool to fulfil their role. They will not appear on screen, but in order for the process to be as true-to-life as possible, they will have the opportunity to look at all of the evidence in detail and be guided by an independent legal professional before reaching a final verdict.
Two endings will be filmed for either outcome of the trial - airing on screen from March 28 to April 1 - and producers will accept a majority verdict from the jury. Once their decision is known, cast and crew will continue filming the aftermath of the storyline - which could see Gilly adjusting to life in prison or walking out of court as a free man.
Pictured: Jacqui is left devastated in the aftermath of the incident with Gilly.
Show bosses have also promised that the storyline will stay true to
Hollyoaks
' long history of tackling difficult youth issues with sensitivity.
"
Hollyoaks
is Channel 4's flagship soap and is still the only long-running nightly drama for young British audiences," the spokesperson told
DS
. "It is renowned for tackling important youth issues such as mental health, eating disorders, drug abuse, teen pregnancy, sexually-transmitted infections and most recently Gender Dysphoria. The show's award-winning storylines play a vital role in raising awareness of the issues that affect teenagers today."
Meanwhile, speaking on behalf of Don't Cross The Line, Detective Chief Inspector Ben Snuggs said: "This storyline represents an issue that we see all too often, involving whether consent is clear on the part of both parties involved in sexual activity, and particularly when alcohol or drugs are involved. The stereotype that rape is committed by strangers lurking around street corners just isn't true in the majority of cases - it is committed by acquaintances, friends, or even partners.
"The campaign we have been running in Hampshire and the Isle of Wight involves an interactive game on Facebook called Seal the Deal, which encourages men to think twice about entering situations they may later regret."
He added: "We are very pleased to have this opportunity to work with
Hollyoaks
in promoting some very serious, but relevant messages around this sensitive issue."
> Click here for details of the full jury process