Soaps News
'Oaks star: 'Gaz will be really scared'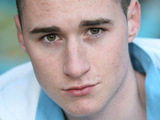 Joel Goonan
has admitted that his
Hollyoaks
character Gaz Bennett fears the wrath of Carl Costello after his upcoming illegal steroids deal goes horribly wrong.
As previously
revealed
, a future plot will see Gaz sell a supply of the dangerous drugs to Carl's son Seth (Miles Higson), who is looking for a quick way to improve his physique.
However, the pair's actions lead to a shock hospital dash as Seth ends up collapsing during an intense workout session when the strain becomes too much.
Soon afterwards, Seth's mother Heidi discovers Gaz's role in the incident - leaving the rogue wondering whether she will share the news with her husband.
Speaking to
Inside Soap
, Goonan commented: "Heidi's understandably livid. She does come round to the idea that it isn't totally his fault, but she certainly isn't able to forgive him for it."
Reflecting on Carl's short-tempered ways, he continued: "Gaz knows that Carl can be a bit of a live-wire. Despite his bravado, Gaz is really scared of what Carl will do if he finds out - but he'll try to hide that fear as much as he can until it actually happens."
Seth's collapse airs next Monday at 6.30pm on Channel 4.
> Click here to read our Hollyoaks spoilers
Get the Inside Soap magazine on your iPhone or iPad