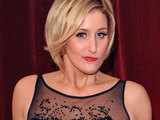 Bronagh Waugh
has claimed that her
Hollyoaks
character Cheryl Brady needs a Curly Watts-style love interest.
The actress suggested that Cheryl should stop dating bad boys and instead find someone similar to the
Coronation Street
favourite, who was played by Kevin Kennedy between 1983 and 2003.
Speaking to
Bang Showbiz
, Waugh explained: "I think Cheryl's ideal man would be
Hollyoaks
' version of Curly Watts. It needs to be a typical underdog, someone who's a bit dopey and adorable. I would love to see her with someone like Mackenzie Crook from
The Office
. Just someone really awkward-looking and a bit geeky.
"Cheryl always goes after the Calvin Valentine types when really she should be going for someone like Gilly. They would have been perfect for one another, sat at home with a curry and a pint. I'm on a mission to find
Hollyoaks
' version of Curly Watts."
The star added: "She attracts such bad things - psychopaths and killers and the like. The men in her life have all been bad, bad people."
Cheryl is currently dating villain Warren Fox (Jamie Lomas), unaware of his true colours.