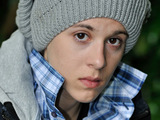 Hollyoaks
star
Victoria Atkin
has teased the latest romance twists in store for her character Jason Costello, who will soon face a fresh rejection from Bart McQueen.
Bart (Jonny Clarke) previously had a relationship with Jason when he first arrived in the village as Jasmine, but their union came to an end when the troubled teenager started to live life as a boy.
Atkin told
All About Soap
that the pair's relationship will soon be revisited when Bart discovers that Jason is out on a date and starts spying on him.
When Jason hears that Bart has been keeping tabs on him, he confronts the rebellious McQueen at the shack in the woods, with surprising consequences.
Atkin said: "Bart denies [spying], of course, but Jason isn't having any of it and they start having an argument. That leads into a bit of a fight, but there's so much chemistry between them that they almost end up snogging."
"Bart pulls away at the last minute," she continued. "There's so much going on in Bart's head at that moment - he must be so confused. He loves Jasmine, but she isn't really there anymore and he's also worried about what other people would say if he started dating Jason, just like any other 16-year-old boy would be."
The actress added that the experience is a fresh setback for Jason, who has never been able to let go of his feelings for Bart.
"He's completely gutted, especially when he knows that there's something between them," Atkin said. "To make matters worse, he also later finds out that after their near-kiss, Bart went straight to Sinead's house and slept with her. It was probably to prove he's straight, but it hurts Jason nonetheless."
The scenes air on Channel 4 next month.
> Read our Hollyoaks spoilers and news
> Hollyoaks to tackle Gender Dysphoria