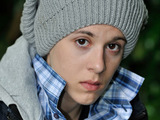 Hollyoaks
star
Victoria Atkin
has promised that there is a "really powerful" scene in store as her character Jason Costello's love triangle storyline with Bart and Sinead comes to a head.
Viewers have recently seen
Bart run away with Sinead in a forbidden love plot
, but next week's episodes explore how he still has unresolved feelings for Jason. Bart (Jonny Clarke) previously dated
the transgender student
when Jason first arrived in the village as Jasmine.
The drama begins next Monday when Jason comes to help Bart and Sinead (Stephanie Davis) in their secret location
after hearing that they have run out of money and food
.
Atkin told
Digital Spy
of Sinead's unhappiness at seeing Jason: "You'll see them at each other's throats and competing for Bart's attention and love. But what's coming up is really exciting, as you'll also see both characters break down and almost beg each other to let go of Bart.
"Particularly Sinead - there's a really powerful scene where she begs Jason to let Bart go, because otherwise nobody will be able to be with him. Sinead asks Jason whether he really thinks he can make Bart happy. It's quite sad, actually - you'll see both characters really raw. But then they go head-to-head again, and some of those rivalry scenes are really funny."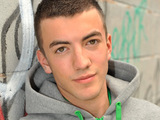 Meanwhile, asked whether Jason and Bart would make a good match, the actress replied: "I think they would, but I think they would struggle in society. Their love is extremely strong and if it was just the two of them on the earth, they'd be fine! But they're facing a lot of pressure.
"I think the story is a great thing to show the audience - it's dealing with how you can't just focus on the outer skin and you've got to look a bit further than that. The story does show that and I think it's lovely. If Bart and Jason really tried, I think it'd be nice to show them just getting on with it and not caring what people think at work, school, college or whatever. I think things could blossom between them - but there'll always be trouble!"
Hollyoaks
' Jason, Bart and Sinead storyline plays out next week on Channel 4.
> Read our full interview with Hollyoaks star Victoria Atkin
> Read more from Hollyoaks star Victoria Atkin in Soap Scoop
Watch
Hollyoaks
' teaser video for this week's episodes below: