Scenes featuring
Hollyoaks
characters Bart McQueen (
Jonny Clarke
) and Sinead O'Connor (Stephanie Davis) have been filmed at a Wretch 32 concert in London.
The actors staged an invasion at the show - which was organised especially for Channel 4 - on Tuesday evening (November 8). Onlookers were left stunned as Bart rushed onto the stage during the gig to
declare his love for Sinead
.
The footage was filmed in Pulse at Bankside Vaults in front of hundreds of fans who had applied for free tickets. The show had been promoted on Twitter using the hashtag #wretch32invasion.
Hollyoaks
' live stunt forms part of the climax to an ongoing love triangle storyline. This week's episodes see Sinead consider leaving the village with new boyfriend Gaz (Joel Goonan) after they land jobs selling gig merchandise on Wretch's tour.
Knowing he needs to win Sinead back, Bart follows her to London before making his last-ditch attempt to prove his love for his ex-girlfriend.
The footage filmed last night will air in this Friday's episode of
Hollyoaks
. Viewers will have to tune into the special edition to find out if Sinead was impressed by Bart's stunt or if she will stick with Gaz.
Hollyoaks
' new series producer Emma Smithwick commented: "
Hollyoaks
is one of the most exciting and contemporary youth dramas currently on British screens and we want to continue to set trends, break boundaries and engage with our audience.
"Invading a live music gig was such an exciting prospect because it not only allowed us to associate
Hollyoaks
with a cool of-the-moment music act like Wretch 32, but also allowed us to deliver a story in real time and interact and engage with the audience on a new level."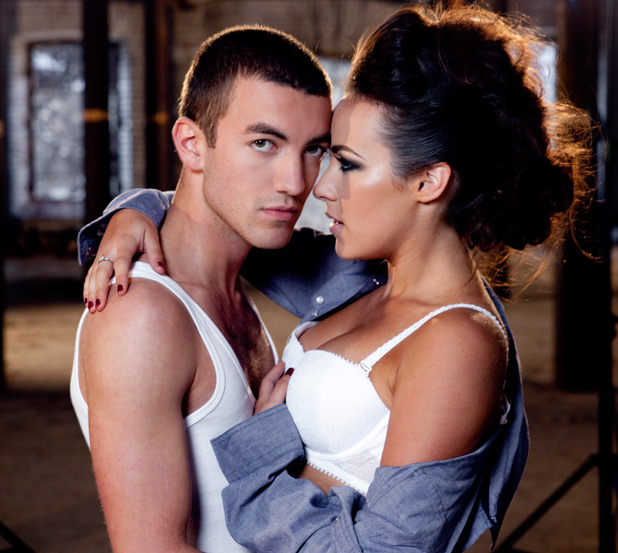 A handful of
Hollyoaks
fans were also given the chance to film the stunt on Nikon cameras. Their footage could be used in the show, giving them a TV credit.
Smithwick added: "Members of the public who secured free tickets to tonight's gig via C4 online and on air platforms were not just fans at a Wretch 32 gig - they became fully immersed in the drama, seeing it unfold in and around them.
"Not only were the audience a part of the show but 10 people were selected and given the task to film the event from the crowd as part of the programme making team. They were given Nikon 5Ds and the successful footage will be credited to the filmmaker if it makes it into Friday's show."
Celebrities including
The Only Way Is Essex
cast member Kirk Norcross and
EastEnders
actor Ricky Norwood, who plays Arthur 'Fatboy' Chubb, were also present at the concert.
Hollyoaks
airs the surprise scenes on Friday at 6.30pm on Channel 4. There will be no first-look screening of the episode as a
Bart and Jason special
is airing on E4 on Thursday night instead.
> Digital Spy interviews Stephanie Davis, who plays Sinead
> Read more Hollyoaks news and spoilers