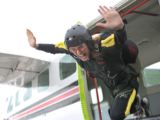 Last week, I asked '
How was Hollyoaks Later for you?
' and you responded in your thousands.
The results are now in...
The majority (67.8%) chose the 'Amazing - it was a lot better than I thought it would be', while 22.1% sat on the fence and opted for 'It was okay...'.
Those disgruntled fans amongst you - 10.1% of the vote - thought it was rubbish.
So it's a resounding 'please give us another series next year, E4'. Please. If you're reading.
I'm still perplexed as to why such an amazing run didn't get a second outing on Channel 4. I'm told that it was purely down to scheduling and nothing to do with quality or content of the output.
There's no new poll this week as I'm
not around
. We'll be back to normal in a fortnight!