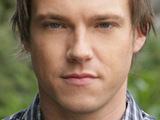 Andy Moss has been one of
Hollyoaks
' standout performers in recent months while portraying the ups and downs of his character Rhys's relationship with Jacqui McQueen.
Not long after their troubles with dangerous gangster Danny Houston, the pair have found their romance facing its biggest test yet following Jacqui's allegation that Rhys's best friend Gilly raped her.
I recently interviewed Andy about Gilly's upcoming trial week, and you can find the main chat by
clicking here
.
If you've already read the main piece, read on for a bonus Q&A focusing on Rhys and Jacqui's future and more.
Do you think that Rhys and Jacqui's relationship can ever recover from this?
"I think they're on the road to recovery and whichever way the verdict goes, Rhys has got to believe Jacqui and he does believe Jacqui 100%. So I think, regardless of the verdict, they will try to repair their relationship and they are in deep love. At the end of the trial week, Rhys tries to placate Jacqui and show that he's finally taken her side and supports her, so he makes a massive declaration of his love for her in the court. It's not the right time, though, so Jacqui dismisses it and that's heartbreaking for Rhys.
"But I'm still not entirely sure what will happen in the week after the trial as we've filmed a few different scenarios, so we don't know what will be used, and we're still filming bits for that week now - which is unusual for us as we're usually two months ahead. We've been told that this is a long-running story and it seems the trial is just the beginning. Jacqui and Rhys will have a long journey ahead as they come to terms with what happened, and I think Rhys will do everything he can to be there for Jacqui."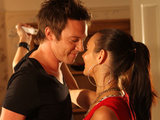 Rhys and Jacqui were seen as quite an unlikely couple at first. Have you enjoyed creating their partnership?
"Yeah, everyone's said that - they're so different. But I think that Rhys sees some parts of himself in Jacqui and she's the only woman in the village who can give him a run for his money - she's just as sarcastic, just as cutting and she can be just as selfish. But they're opposites in some ways as well, and it's a case of opposites attracting. I love working with Claire Cooper - she's a fantastic actress and the storyline has been a breath of fresh air for me. Me and Claire are really working our socks off to make Rhys and Jacqui a
Hollyoaks
power-couple."
After all of the other Ashworths left, was it a relief to realise that Rhys would still get big storylines?
"Yeah, when I knew that the other Ashworths were leaving, I felt like the orphan of the village! But I was assured by the producer that there was still a long way to go for Rhys, and that's when they told me about the pairing with Jacqui. And I'd actually been mentioning that for the past couple of years - saying that I'd really love to work with Claire Cooper.
"It's great that we can do it now and prove to everyone that we knew it would work. Especially with having this latest storyline, it's going to be a tumultuous ride and I can't wait to see what happens in the aftermath. But they don't like to talk about their feelings much and I think that'll be really interesting - seeing how they're going to rebuild their relationship, but not talking about what's happened in detail because they have trouble with that. I think that's quite realistic as well."
Was it nice to see Suzanne Hall back recently as Rhys's mum Suzanne?
"Yeah, I love it when they bring Suzanne back. When I started on this show, I'd just moved back from London and she literally looked after me like my mum, so when she left it was really upsetting. So when she comes back now for a few months here and a few months there, it definitely perks me up again. Bring back Suzanne Hall again!"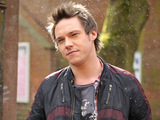 What has Hollyoaks' new boss Gareth Philips been like to work with so far?
"Well, I'd already met Gareth a few times at Corrie, because he was there when I was there for a little while. When I finally got to talk to him when he came here, I realised that he'd obviously been watching the show as he talked in-depth about my character and Rhys's background, as well as what's to come in the future. What I've learned is that he knows his stuff, so I do trust Gareth - he knows about the characters and he's told us about the future storylines. He's just got to pull it all together now, which I'm sure he will, and I think this is going to be
Hollyoaks
' year. We've got some great characters lined up and some amazing storylines in the pipeline for this year, so we are all totally behind Gareth. I'm really excited to see what this year brings."
Finally, will you be staying at Hollyoaks for the foreseeable future?
"I hope so - obviously this business is so precarious, but I've been at
Hollyoaks
for five years now and I love the crew and all the people. We have such a laugh filming it, and we're slightly separate from the other soaps because we're in this little bubble in the corner of Liverpool!
Hollyoaks
has been great for me and I'm happy here for as long as they'll have me."
Let me know your thoughts using the usual form below!