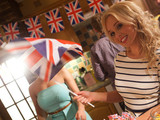 Hollyoaks
marks the Queen's Diamond Jubilee next week as the McQueen family throw a party to celebrate the occasion.
With Myra facing court due to the cannabis farm found in the loft, the rest of the McQueens try to take their minds off their recent troubles by enjoying the bash.
The party looks like it will be an eventful one for all concerned as
Riley and Lynsey go public with their relationship
, Ste and Doug announce their own romance as they deliver food from the deli, and Bart returns from court with some devastating news…
Our
full spoiler for the Jubilee episode can be found here
, but below,
Digital Spy
presents a collection of behind-the-scenes pictures from filming.
Photo gallery: Behind the scenes at the McQueens' Jubilee party: