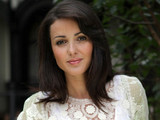 Hollyoaks
cast members have shared their theories over the ongoing
'Who killed Lynsey?'
mystery in a new behind-the-scenes video.
Jennifer Metcalfe
(Mercedes), PJ Brennan (Doug) and Emmett Scanlan (Brendan) are among those who feature - naming and shaming potential killers in between filming scenes.
With Ally, Browning, Nancy and even baby Bobby put forward as potential suspects, could any of the cast have got it right?
> 'Hollyoaks' Karen Hassan talks Lynsey exit, future plans - interview
> Read the latest 'Hollyoaks' spoilers and news
Watch the new behind-the-scenes
Hollyoaks
video below: