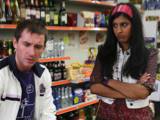 Although still wary, Elliot's coming round to the idea of having Gareth in his life so decides to make an effort to get to know him. Despite the reunion being Leila's idea, she starts to worry that Gareth will let Elliot down but tries to stay positive.
While in Drive 'N' Buy, Leila walks in on what she believes to be Gareth scamming Gilly and with her doubts about Gareth growing, she's furious when she later catches him looking down her top. She tries to bite her tongue for the sake of Elliot but eventually snaps, telling Elliot exactly what she thinks of Gareth. Elliot's surprisingly quick to dismiss Leila's doubts and defends his dad.
Meanwhile, Abi's becoming closer to Lucas and Daniel's beginning to worry. He tells Ste not to mention the interview with John and Sandy to her as he's deliberately gone behind her back. Daniel's plan is starting to come together – Ste's still sleep-deprived and jobless but Abi's starting to feel guilty. After visiting the job centre, Ste and Abi take Lucas to the park but Ste soon puts his foot in it by telling Abi that she makes a great mum.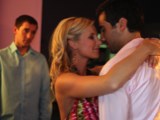 With the memory of her own baby's death so raw, Abi becomes emotional with a mixture of grief and her growing guilt. Ste manages to slip up again and is forced to come clean to Abi about the interview the previous day. She's livid with Daniel, knowing that he's planning on giving Lucas up.
Returning home, Ste senses the tension and makes himself scarce, leaving Abi able to confront Daniel about his deceit. Abi's adamant that Lucas will be their baby and issues Daniel with an ultimatum…
Elsewhere, Steph's feeling foolish about the previous night and the way she treated Fernando. While working in MOBS, she sees him heading over and ducks out of sight, much to the amusement of Gilly. He realises that Fernando is Steph's mystery man, so when Fernando sees Steph is hiding, things are awkward as Gilly obviously lies that she's not there.
Believing that he still has a chance, Gilly tells Steph that she should think about moving on from Max but is left crushed when she asks Fernando on a date. Reluctantly agreeing to babysit Tom, Gilly thinks he's put his foot in it when he reveals that Steph is on a date.
Tom, however, is a relationship expert and tells Gilly he's fully aware that Steph and Fernando are going to become boyfriend and girlfriend. Foolishly thinking his day couldn't get any worse, Gilly witnesses Steph and Fernando sharing their first kiss.