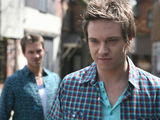 While Cheryl worries about the Valentines in life after Calvin, Carmel looks to be their only comfort. Realising that she's making things worse, Carmel decides to leave. Before she does, though, she buys everyone a present.
As Sasha and Lauren find common ground again, they recognise that Leo needs them - and they need Carmel around, too, much to Cheryl's annoyance.
Meanwhile, Suzanne begins to panic that Cindy will tell everyone about her and Darren, while Darren's delighted to have wound Cindy up.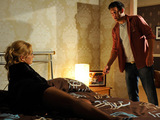 Later, Suzanne returns home and is gobsmacked when she discovers that Rhys has told Neville everything…
Elsewhere, Dave tries to scam Il Gnosh; Jake's stunned when he finds Loretta in his bed; and Tony's pleased when he proves Dave wrong about his alleged food poisoning.