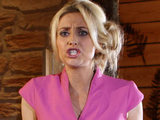 Mitzeee enjoys testing Carmel and when a hunky rugby player turns up at the spa for a massage, Mitzeee convinces him that Carmel has a special touch.
Soon afterwards, Carmel is left disgusted when the guy expects more than just a massage….
Meanwhile, Brendan is determined to get one over on Warren so decides to rope Dodger in on his scheming.
Elsewhere, Mercedes and Riley deal with the fallout of yesterday's accident and Mercedes wrestles with her problem.
Writer: Steve Hughes
Director: Paul Riordan