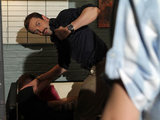 Declan's shocked when he sees Brendan hitting Ste.
No longer prepared to put up with Brendan's violence, Ste threatens to go to the police, but reasons that he won't if Brendan tells Declan the truth about being gay.
Meanwhile, Sinead's resentment of Jason grows as she starts to feel like a third wheel. The trio stumble on an empty farmhouse and go looking for food, but as the tension mounts, Sinead and Jason argue and Sinead runs away. Bart is about to chase after her when the owner of the farmhouse arrives and points a gun at him!
Elsewhere, Rhys and Jacqui's pub quiz scam is unearthed by Jack, while Theresa and Liberty can't bring themselves to open their exam results.
Writer: Kathrine Smith
Director: David Beauchamp