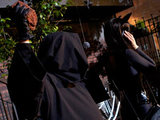 Fright Night is in full swing at Chez Chez and Dodger coaxes Texas back to the party, but will she fall for his charm?
Meanwhile, a jealous Bart is forced to watch from the sidelines as Gaz and Sinead party the night away.
Elsewhere, Cheryl ditches the party in favour of a night with Gilly.
As the night draws to a close, though, Lynsey finds herself in a desperate situation as Silas prepares to strike…
Writer: Richard Burke
Director: Steve Brett