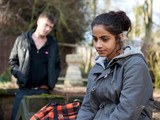 Mercy and Jacqui's sisterly bond is renewed as they search for runaway Phoebe, but it's Rhys who pulls through when he finds the teen. Rhys is left shocked to the core when Phoebe forces him to take stock and listen.
Meanwhile, Amy forgives Ste for yesterday, but tells him that he needs to move on and stop concerning himself with her relationships. She pushes him to try internet dating!
Elsewhere, Joel and Bart go ahead organising their club night, but Brendan isn't impressed and puts his foot down.
Also today, Tilly and Jen agree to be just friends - but secret friends.
Writer: Suhayla El-Bushra
Director: Ben Gutteridge