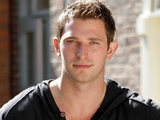 The stalker's escalating antics force Mitzeee to confess all to Riley, and Mercedes is thwarted when Riley promises to stand by Mitzeee.
Meanwhile, Scott and Annalise are shocked by Rob's apparent understanding - but is he coping as well as he's making out?
Elsewhere, the book club takes an unexpected turn when the girls eat Bart's brownies.
Also today, Doug finds himself jealous of Ste's date.
Writer: Grant Black
Director: Matt Holt