4
Soaps Spoiler
3343: Joel faces terrible danger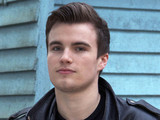 Aired Wednesday, May 16 2012 at 18:30 BST on Channel 4
Brendan recruits Joel's help in teaching Walker a lesson. However, when the deal goes sour, Joel finds himself out of his depth and in grave danger.
Meanwhile, Dennis is buoyed that his match-making skills are working - until the truth comes out about Amy and Dodger's night together. Ally is distraught at the revelation and heads back to Hollyoaks alone.
Elsewhere, Michaela has a surprise in the form of Josh Ashworth, which might put a smile back on Amy's face.
Writer: Rob Butler
Director: Eddy Marshall
Get the Inside Soap magazine on your iPhone or iPad