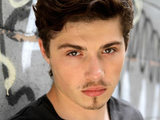 Callum wakes up to discover that Martha made it home in the wee small hours and got to know her new boss a whole lot better. He is hopeful that he can escape to the US soon, but is distracted by a distraught Lacey saying that dad can't take her away.
Meanwhile, in the cold light of day, Nancy's worried about her pregnancy.
Elsewhere, Bart does the right thing for Sinead, but can he say the same for his family?
Also today, it seems that Carmel has finally found love.
Writers: Jessica Lea
Director: Mickey Jones