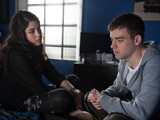 Texas and Leanne comfort a confused Doug, but their efforts only succeed in distressing him further.
At the same time, an overworked Ste is forced to employ an eager Barney when Doug fails to return to the deli.
Meanwhile, Mercedes takes drastic action to forget about Silas.
Elsewhere, Esther finds herself out in the cold when she tries to comfort Maddie.
Also today, the students find themselves with some less than ideal houseguests when Will reluctantly offers shelter to his homeless family.
Writer: Kathrine Smith
Director: Gill Wilkinson