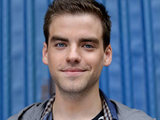 Ste and Doug are having problems as Doug confesses that he feels inadequate. Brendan makes Doug feel more uncomfortable and squares up to Ally when he jumps to Doug's defence.
Meanwhile, in an effort to make the first move, Mitzeee reveals all to Riley and leans in for a kiss. How will Riley react?
Elsewhere, Rhys is feeling neglected by Jacqui in light of the McQueens' latest drama.
Writers: James Coleman, Kate Davidson and Anna McCleery
Director: Lee Skelly