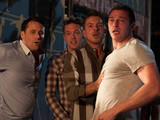 Riley, Rhys, Brendan, Doug, Ste and Darren are having a lads' night out, with Brendan taunting the others about 'manning-up'.
Dodger, Darren and Rhys decide to take Brendan on to stop his bullying, but Rhys's drunken shouting gets him into hot water.
Meanwhile, Riley sends a revealing text after too many drinks, but who has he sent it to?
Writers: James Coleman, Kate Davidson and Anna McCleery
Director: Lee Skelly