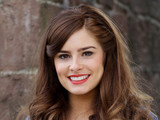 Mercedes revels in her new victim status as Mitzeee is forced to face a future in prison - but whose side will Riley take?
Meanwhile, Lynsey is determined to uncover the truth about Walker, but when she pushes Ally for the information, she's left with more questions than answers.
Elsewhere, Callum despairs as Martha hits an all-time low and insists that things must change - now.
Also today, Darren and Nancy are nervous as they go for their scan and pray for some good news.
Finally, an old enemy pays Brendan a visit…
Writer: Michelle Lipton
Director: Alex Jacob