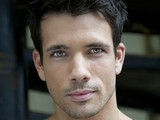 Dodger is forced to choose between Texas and his family.
Meanwhile, a new resident in the village forces Mercedes to make a deal with the devil that is Doctor Browning.
Elsewhere, Walker's appearance leaves Joel frustrated.
Also today, Esther manages to turn things around for herself on her last day at the magazine, while George and Ryan part with the promise to stay in touch.
Writer: James Coleman (additional material by Jess Lea)
Director: Craig Pickles (additional material by Tessa Hoffe)