4
Soaps Spoiler
3386: Dodger refuses to forgive Will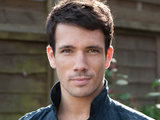 Aired Monday, Jul 16 2012 at 18:30 BST on Channel 4
Will is devastated about his continuing estrangement from Dodger and Texas.
Dodger softens slightly when Will admits that he wanted to write Silas's memoirs to raise money for the family. Ash tries to broker peace between the brothers, but to no avail.
Meanwhile, Brendan withholds his fears about Sampson, but terrified for Cheryl's safety, misguidedly entrusts her care to Walker.
Elsewhere, Maddie is reeling from her parents' divorce, but refuses to dwell on it - instead rallying her friends for an epic last blow-out in Abersoch.
Writer: Kate Davidson
Director: Lawrence Gough
Get the Inside Soap magazine on your iPhone or iPad