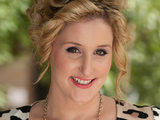 Cheryl refuses to forgive Brendan and is further panicked when a message is left on her doorstep, while Brendan takes drastic action to protect her.
Meanwhile, Riley and Mercedes grow closer when he discovers the true identity of the newspaper's 'source'.
Elsewhere, Ash asks Martha to cover her shift at Chez Chez - but does Martha have enough willpower to stay away from the alcohol?
Also today, Phoebe excitedly prepares for George's return with disastrous consequences, while Carmel struggles to leave the safety of her home.
Writer: Richard Burke
Director: David Beauchamp