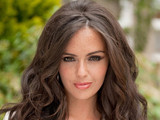 When clever Mercedes helps Riley she's rewarded with a kiss, but with a furious Browning witnessing is Mercedes in too deep?
Will is determined to clear his name by tracking down the woman who can provide his alibi, but will he be able to find her?
The Kane siblings struggle to deal with the fallout of Callum's rage. Will Ash finally realise the extent of her mum's problems?
Excited at having Rob and Barney to bounce ideas off, Tony decides College Coffee should host their own version of the Olympics.
Meanwhile, Scott is still trying to make things up to Annalise, but is there a bigger problem between them?
Elsewhere, shocked that Mitzeee is pleading guilty Nancy decides to visit her and a hen pecked Rhys gets a new job.
Writer: Kevin RundleDirector: Jordan Hogg