3
Soaps Spoiler
3409: Mercedes receives a setback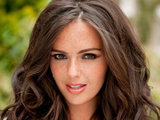 Aired Thursday, Aug 16 2012 at 18:30 BST on Channel 4
Riley visits a desperate Mitzeee in prison and Mercedes is devastated to witness that they still have feelings for each other. At the same time, Doctor Browning is unravelling in Mercy's absence.
Meanwhile, it's exam results day for the sixth formers. It's good news for Ricky, but will he be able to leave the comfort of his friends?
Elsewhere, Esther makes the mistake of being filmed doing a drunken impression of Maddie. She also ruins Maddie's fur coat - which Sinead is wearing - by being drunkenly sick all over it.
Also today, Ste starts to regret Doug and Leanne's impending nuptials when he finds himself on the outside of the Carter family.
Finally, Texas and Dodger have disastrous dates with Rob and Annalise, while Brendan tries to persuade Cheryl to return to Ireland with him and Declan, but is she the only one holding him back?
Writer: Alanna Hallum
Director: Lee Skelly
Get the Inside Soap magazine on your iPhone or iPad