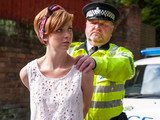 Still hurting following Jen's revelation, Tilly acts out and finds herself in trouble with the police after stealing Jen's car.
Meanwhile, struggling to get her head around recent revelations, Mercedes focuses her attentions back on Riley.
Elsewhere, Texas's leaving party forces Dodger to take action, but are his words enough to stop her from leaving?
Also today, Joel and Cheryl begin to build bridges as they unite in their grief for Lynsey, while Ryan's arrival leaves Phoebe out in the cold.
Writer: James Coleman
Director: Tessa Hoffe