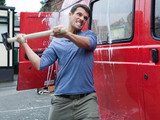 Dodger finds a clue to the identity of his real father, but will it be enough to track him down?
Meanwhile, when Ash confronts Martha about her behaviour, it has far-reaching consequences for the Kanes.
Elsewhere, a jealous Joel isn't happy with Theresa's new job, leading to a serious ultimatum.
Also today, Jacqui tries an unusual method of getting through to Myra.
Writer: Kevin Rundle
Director: Nicky Higgens