5
Soaps Spoiler
3426: Mercedes issues a threat to Nancy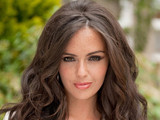 Aired Monday, Sep 10 2012 at 18:30 BST on Channel 4
An unscrupulous Mercedes threatens Nancy and her baby, but will it be enough to stop Nancy's quest for justice?
Meanwhile, Leanne is still in the midst of wedding fever, but does she have the heart to tell a smitten Dennis how she really feels?
Elsewhere, Walker gets defensive when the doctor makes it clear that Cam's prognosis isn't good.
Writer: James Coleman
Director: Paul Riordan
Get the Inside Soap magazine on your iPhone or iPad