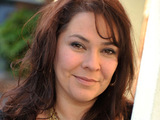 Myra decides it's time to confront her daughter. Mercedes plays a blinder, but it's not enough to deceive her shrewd mother. Will Myra keep the secret and protect her family?
Meanwhile, Joel's mum begs Theresa not to tell Joel that his stepfather's been hitting her.
Elsewhere, it's clear the Kanes are struggling when Ash is unable to pay the rent.
Also today, worrying about Phoebe, Jacqui seeks help from Frankie who suggests Phoebe and Esther study together.
Writer: Steven Fay
Director: Paul Riordan