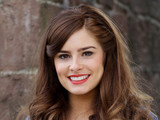 A disturbed Mitzeee loses her grip on reality and is taken to a psychiatric hospital.
Meanwhile, there's chemistry in the kitchen when Ste helps Brendan prepare Joel's birthday dinner party.
Elsewhere, when Ash realises how boring she's become, she insists Lacey's house party goes ahead with disastrous results for Rob… and the Kanes receive an unexpected guest!
Also today, a bitter Maddie tells Ruby that Jono has a new muso girlfriend.
Writer: Laura McCann
Director: Paul Riordan