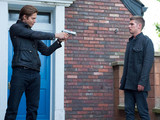 Ste is caught in the crossfire when Walker wreaks revenge on Brendan, but who will pay the ultimate price?
Meanwhile, willing to do anything for Bobby's safety, Riley is forced to break Mitzeee's heart.
Elsewhere, a furious Darren threatens to hand Mitzeee into the police when Nancy experiences severe pains and needs to be rushed to hospital.
Writer: Richard Burke
Director: Nigel Keen