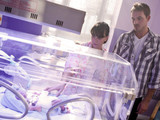 Darren and Nancy do their best to accept that their premature baby may have brain damage. Struggling with the thought that this is all down to Nancy, Darren goes full throttle and tells her what he really thinks. Can Jack talk him round?
Meanwhile, struggling to deal with the loss of Mercedes and Bobby, Myra becomes a cause for concern.
Elsewhere, Rhys tries his best to lure Cindy into some bedroom shenanigans, but can she be persuaded?
Also today, George enlists the help of his friends for his drama project, which is a homage to
Roman Holiday
. Lacey sneakily brings along Ash's motorbike to help out. When Maddie is cast as Audrey Hepburn, Esther tries to outdo her - but ends up humiliated when she crashes on the bike and flashes her underwear.
Writer: Tom Higgins
Director: Lee Skelly